[ad_1]
"Sometimes I'm just sitting in front of my microscope and realizing how beautiful it is, what I'm doing," she says.
This year's competition is judged by fashion designer Lisa Gorman, who studied nursing and worked at the Royal Melbourne Hospital before going into fashion.
The appeal of images is "deeper than aesthetic appeal," she says. "There is an intrigue around what you see, what you experience and what it's made of.
"Beauty is definitely contained in these works. "
Colors in images are added by researchers to bring out information and structure. The neon aesthetic resonates with Gorman.
"They took me back to the '90s, some of them looked like a rave night," she said. "There was this organic movement with this neon pop color on a black background. "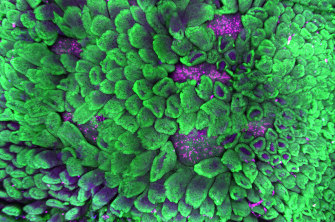 Gorman jokes that the scientists might want to update their palette: ideally this season's science data "might go with a bit of forest green spliced ​​with mint, we might get purple and cobalt blue, lilac. and mustard yellow ".
"I could always lend them my Pantone books."
Then again, maybe they're on to something.
"This [neon rave] palette is on the rise again, "says Gorman. "They are probably ahead of their time. We probably need their help more than we need ours.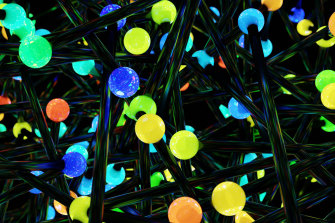 And seriously, Gorman draws inspiration from the experience to return to his moodboards. She is intensely interested in the use of photographic imagery in fashion, with new technologies that can obtain more detailed images on fabrics.
"It was really inspiring, to see the photographic texture at this micro level, to dig into it," she says.
Loading
She isn't exactly announcing that the next Gorman line will be Toxoplasma-themed, but there is a long history of the fashion world taking inspiration from the natural world, on a much more subtle level than a leopard print or a python skin pattern.
"You sometimes find textures in such small items, and that in itself can create a complete textile impression."
Art, fashion and science speak to each other more than we realize, says Gorman.
"There is so much to explore. "
[ad_2]
Source link